Microsoft Office applications have been a staple for businesses for years, but the apps remain fresh and in demand thanks to continuous improvement and innovation. These have made it the most popular productivity software suite in history and also perhaps the most powerful and most intuitive one in the market today.
So if your goal is to improve business productivity, arm yourself with the best tools available. Below is a list of Office 365's most popular apps.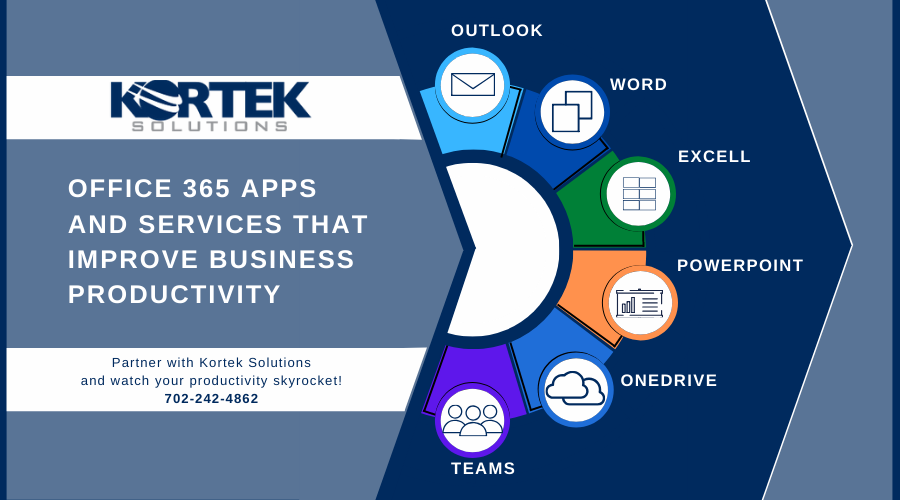 Outlook
Outlook is a digital organizer that you can use to manage your email, contacts, and calendar simultaneously. It saves time by eliminating the need to shuffle between multiple windows. On Outlook, you can book appointments, track conference attendance, and coordinate schedules easily within one app.
The app also touts intelligent features such as smart scheduling and search. It can anticipate travel schedules and bill payments and automatically add them to your calendar as needed. Smart reminders can keep you on track, while the powerful search feature can help you comb through information quickly.
Word
Word is Microsoft's popular document processing program. It's more powerful than ever, with cloud capabilities and other features that eliminate the tediousness of creating a document.
You can use Word to easily transform documents into web pages or newsletters with built-in templates and even translate entire documents on the spot with its built-in translator. And if you prefer to write and research without leaving the document, you can use the collapsible task pane on the right side of the screen.
Excel
Excel is Microsoft's renowned spreadsheet application. It's a robust tool for recording information and generating metrics and visual representations of data. Individuals, students, and business users alike have been using Excel for years to collate information, generate visual representations of data, and more.
Excel's latest version takes productivity a step further by augmenting its all-time features such as in-cell formula sets with new tools. The latest version can learn your patterns and habits to save you time for more important tasks. It also features online collaboration via Microsoft 365 and a new image recognition function that eliminates the need to manually type data.
Use technology to your advantage
Partner with Kortek Solutions and watch your productivity skyrocket!
PowerPoint
PowerPoint is a slide presentation software powerful enough to handle photo editing and image manipulation. It lets you design impactful presentations for a variety of purposes.
The latest version of PowerPoint has several tools to give your presentations the wow factor. You can now embed 3D objects and animations into your slideshow, and interact with the software naturally via voice, touch, and ink. Lastly, it comes with a Presenter Coach artificial intelligence (AI) tool that helps you improve your speech and diction. It will even provide you with recommendations on pacing and word choice.
OneDrive
OneDrive is a cloud-based storage and support system that comes bundled with every Windows 10 operating system (OS) and Office 365 subscription. The OS bundle gives users 5 GB of storage space while the Office 365 bundle gives each subscriber 1 TB of storage for up to five users.
OneDrive seamlessly syncs files in the background as you work, without taking up much processing power, making it a great collaboration and file sharing tool. With OneDrive, you can make sure all your files are accessible and organized from any company device — great for showing sales collaterals and photos of product samples to prospective clients from a mobile device or laptop.
Teams
Microsoft Teams is a free, secure unified communications and collaboration tool that allows users to chat and work with colleagues across multiple devices. It's an all-in-one office communication platform where employees can hold teleconferences and present documents and reports even when they're miles apart.
What's more, Teams is a way to share and communicate without compromising privacy and security. You can even use it to record conferences and meetings for future review.
Elevate productivity in your organization with Microsoft tools and services. For Las Vegas businesses, the trusted partner is Kortek Solutions. We'll make deployment a breeze for you. Contact us today.